---
Imaging Place: The Choragraphic Method
John Craig Freeman
Emerson College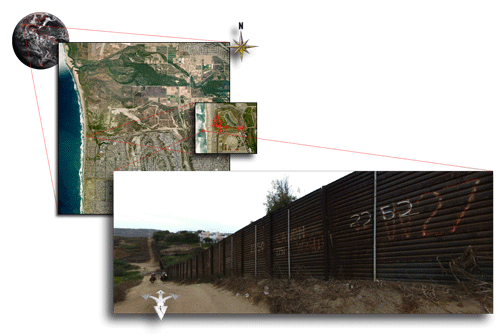 Composite from "Imaging The U.S./Mexico Border," John Craig Freeman.
Satellite imagery by NOAA GOES, and DigitalGlobe, 2006.
Preface
01 "Imaging Place" is a place-based, virtual reality art project. It takes the form of a user navigated, interactive computer program that combines panoramic photography, digital video, and three-dimensional technologies to investigate and document situations where the forces of globalization are impacting the lives of individuals in local communities. The goal of the project is to develop the technologies, the methodology and the content for truly immersive and navigable narrative, based in real places. The project has been under development since 1997 and includes work from around the world including Beijing, China; Sao Paulo, Brazil; Kamloops Canada; Taipei, Taiwan; Warsaw, Poland; the U.S./Mexico Border; Kaliningrad, Russia; Niagara, Miami, New England and Appalachia, USA.
02 Although the method borrows freely from the traditions of documentary still photography and filmmaking, it departs from those traditions by using nonlinear narrative structures made possible by computer technologies and telecommunications networks. The work is projected up to nine by twelve feet in a darkened space with a pedestal and a mouse placed in the center of the installation enabling the audience to interact with it. Activated by the click of a mouse button, the interface leads the user from global satellite images to virtual reality scenes on the ground. Users can then navigate an immersive virtual space. Rather than the linear structure of traditional documentary cinema, "Imaging Place" allows stories to unfold through non-linear database navigation and multilayered spatial exploration. "Imaging Place" is therefore experienced as a process of navigation and excavation, allowing the user to uncover many layers of history and meaning.
03 The goal of "Imaging Place" is to document sites of cultural significance that for political, social, economic, or environmental reasons are contested, undergoing substantial changes, or are at risk of destruction. This includes historic sites as well as sites of living culture that are being displaced by the collapse of industrial modernism and globalization.
04 The project also seeks to expand the notion of documentary by exploring how place is internalized, mapping place as a state of mind. "Imaging Place" is designed to accommodate interdisciplinary collaboration conducted across institutions and over distances. It uses new technology to bring disparate bodies of knowledge together in a single hybrid form. The method attempts to bridge the gaps in understanding that exist between esoteric disciplines that have developed as a result of academic and industrial specialization. The technological tools are now available for bringing the work of experts and stories of local denizens together without sacrificing the depth and dimension of specialized knowledge and for connecting the abstraction of highly specialized thinking with the visceral experiences of people on the ground.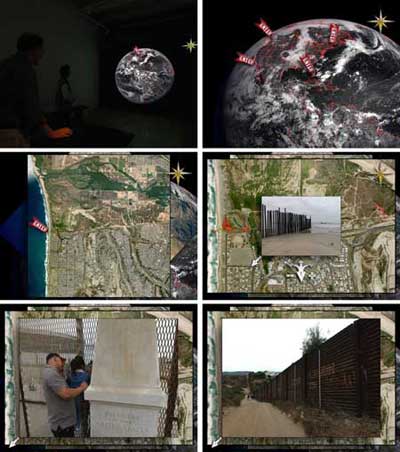 Sequence from "Imaging The U.S./Mexico Border," John Craig Freeman.
Satellite imagery by NOAA GOES, and DigitalGlobe, 2006.
05 Much of the "Imaging Place" project was developed and produced in collaboration with Greg Ulmer and the Florida Research Ensemble (FRE) in an attempt to create a method for Choragraphy. Chora is the organizing space through which rhetoric relates living memory to artificial memory. It is the relation of region to place. Chora gathers multiple topics associated with a geographical region into a scene whose coherence is provided by an atmosphere. This atmosphere or mood is an emergent quality resulting in an unforeseeable way from the combination of topics interfering and interacting with one another. Choramancy is the practice of identifying and documenting Chora.
06 Since the fall of 2006, I have been implementing the "Imaging Place" project in Second Life, an avatar-based, virtual world that currently has over 1.5 million users. In her article for SLATEnight, "Art and Aporia: Imaging Place," Lythe Witte (aka Christy Dena) writes, "The mode of interaction, a la Lev Manovich's 'Soft Cinema,' facilitates a place-based navigation where memory, location and hyperlink imbue a moment with the illusion of control over personal time and space gateways." The entire body of the "Imaging Place" project includes an archive of hundreds of locations and hours of narrative. I currently have seven scenes from this archive constructed in various locations around the Second Life world, or grid. When a denizen of Second Life first arrives at an "Imaging Place SL" scene he or she sees a large black and white satellite picture of the full disk of the Earth, the same one used in earlier versions of the project.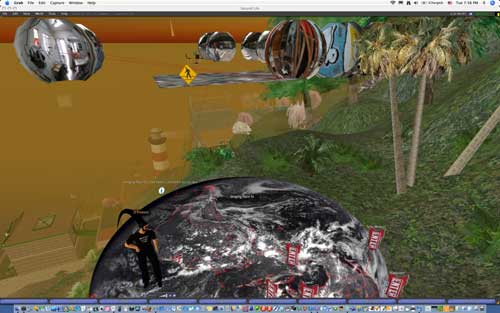 Still frame from "Imaging São Paulo in Second Life," John Craig Freeman.
Satellite imagery by NOAA GOES, and DigitalGlobe, 2007.
07 The avatar can then walk over the Earth to a thin red line which leads to an adjacent higher level platform made of a high resolution aerial photograph of a specific location from around the world. Mapped to the aerial images are networks of nodes constructed of primitive spherical geometry with panoramic photographs texture mapped to the interior.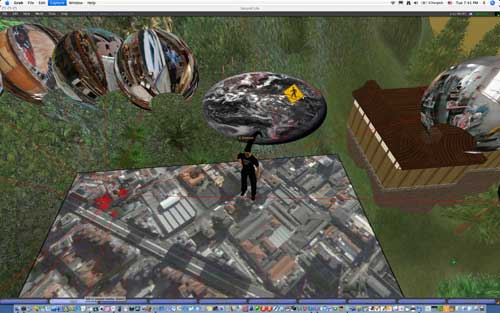 Still frame from "Imaging São Paulo in Second Life," John Craig Freeman.
Satellite imagery by NOAA GOES, and DigitalGlobe, 2007.
08 The avatar can walk to the center at one of these nodes and use a first-person perspective to view the image, giving the user the sensation of being immersed in the location.
Still frame from "Imaging São Paulo in Second Life," John Craig Freeman.
Satellite imagery by NOAA GOES, and DigitalGlobe, 2007.
09 Streaming audio is localized to individual nodes providing narrative content for the scene. This content includes stories told by people who appear in the images, theory, humanities scholarship and ambient sound. When the avatar returns to the Earth platform, several rotating enter signs provide teleports to other "Imaging Place" scenes located at other places within the world of Second Life. The result is that not only is the work immersive, navigable and accessible to multiple users at the same time, it is indeed inhabitable.
Introduction
10 This article will focus on how the gathering of FRE and the Invent-L participants at Gainesville, in February, 2007, has impacted the production of the "Imaging Place" work. In June of 2007, I traveled to China to begin work on "Imaging Beijing." What follows is an account of that experience and an attempt to integrate some of the thinking of my friends and colleagues from FRE and Invent-L into the "Imaging Place" method. This includes the formation and integration of the mystory, both mine and the denizens of Beijing, and its juxtaposition with the encounter of the place. As I have come to understand it, it is the mapping of the self over the encounter of place, which qualifies the experience as choragraphic (Ulmer Teletheory).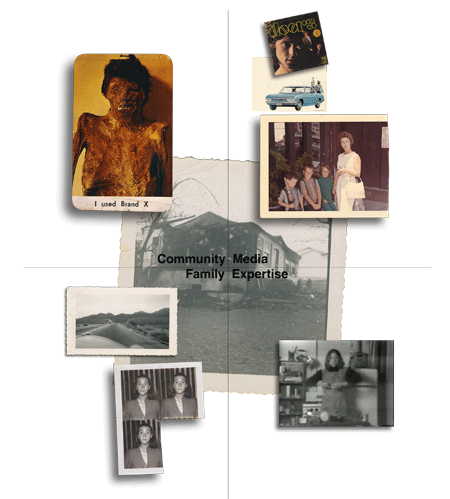 Composite from "John Craig Freeman's MyStory," John Craig Freeman, 2002.
11 The question becomes how to coax the mystorical information out of the individuals who appear in the work without having to explain all of the complexities of the theory developed over the course of Ulmer's life work. I don't know if I am succeeding at this, but the work takes a strikingly poetic turn when I can get the people to move beyond explaining the place and instead simply recollect formative experiences and memories. The attempt is to create a collective cognitive map (Kitchen). Based on "method of loci" used by students of rhetoric in Ancient Rome when memorizing speeches, cognitive maps are used to structure and store spatial knowledge, allowing the mind to visualize images in order to support and enhance recall of complex information.
Imaging Beijing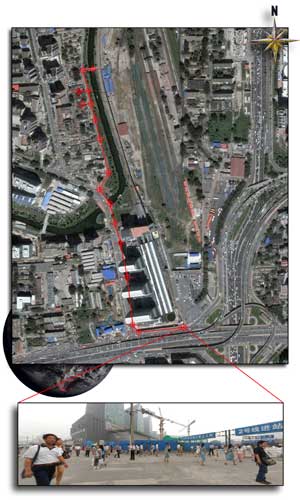 Composite from "Imaging Beijing," John Craig Freeman.
Satellite imagery by NOAA GOES, and DigitalGlobe, 2007.
12 China generally and Beijing specifically are sites of some of the most profound social, economic and political transformations in the world. Driven by globalization, the city and its inhabitants constitute an extreme example of how global public policy impacts individuals and their communities.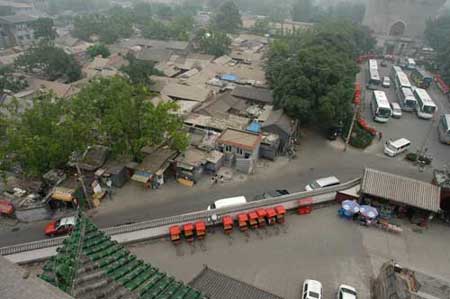 View of hutongs from the Drum Tower, Beijing, John Craig Freeman, 2007.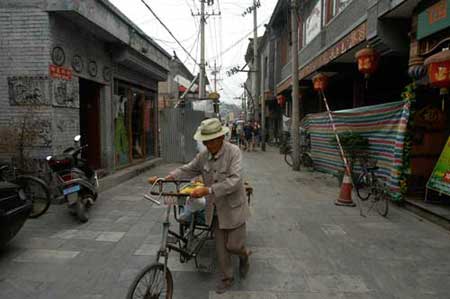 Yandaixie Jie hutong, Beijing, John Craig Freeman, 2007.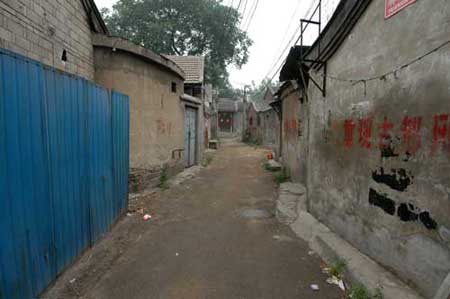 Encroaching hutong demolition, Beijing, John Craig Freeman, 2007.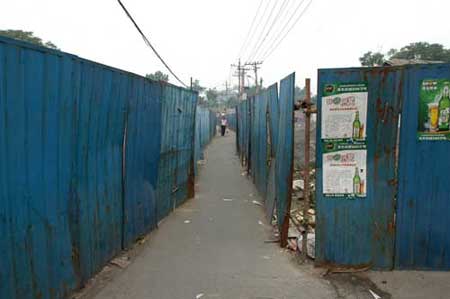 Demolition zone, Beijing, John Craig Freeman, 2007.
Demolition zone, Beijing, John Craig Freeman, 2007.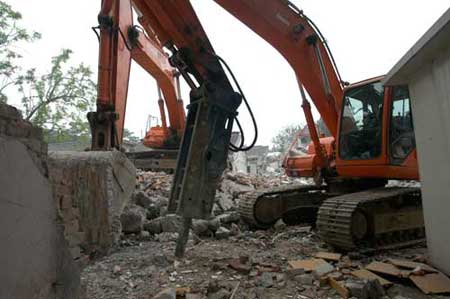 Demolition zone, Beijing, John Craig Freeman, 2007.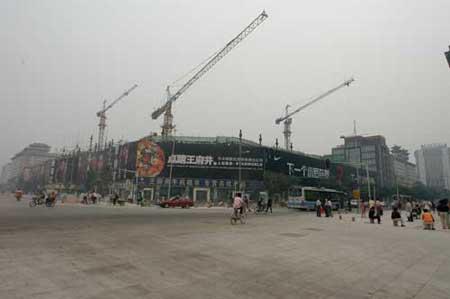 Construction Site, Beijing, John Craig Freeman, 2007.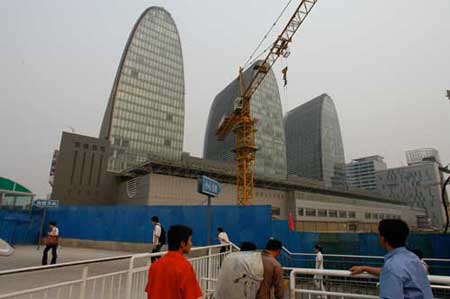 Construction Site, Beijing, John Craig Freeman, 2007.
13 The "Imaging Beijing" project focuses on the demolition of traditional neighborhoods to make room for the "new" China. These neighborhoods, often referred to as hutongs, have a rich history reaching back hundreds of years. The word hutong comes from the Mongolian hottog, meaning "water well." During the growth of towns and cities, wells dug by villagers formed the centers of new communities. These days, the word "hutong" is generally understood to refer to the narrow streets or alleys of Beijing formed by rows of "siheyuan," traditional courtyard residences. Joining one siheyuan to another to form a hutong, and then joining one hutong to another created many of Beijing's neighborhoods. Since these courtyard residences have no frontage other than a simple door, the experience of walking through the hutongs is like navigating a labyrinth of brick and plaster walls.
14 The Beijing work traverses a functional hutong through the demolition zone and into the construction sites where towers were being erected in anticipation of the 2008 Summer Olympics.
Beijing Cracking Down on Rowdy Fans
The Associated Press | Jul 28, 2007

BEIJING—Fearful problems might spill over to next year's Olympics, Beijing officials are cracking down on sports fans who chant obscenities at opposing players and referees.

The move comes just days after Liu Qi, president of the Beijing organizing committee, called on local residents to improve their behavior with the Olympics just more than a year away.

"Everybody should cultivate good habits from now on," Liu told 1,600 people attending a rally on Wednesday. "Everybody should follow and protect public order, no matter if you are driving or walking. Clean words, clean environment and clean air. Clean up bad habits such as spitting, throwing rubbish and so on."
15 I usually begin a project with a derivation of the Situationist International's psychogeographic dérive or drift through the zone. The dérive was defined by the Situationists as the "technique or locomotion without a goal." I try not to impose a subject on a place or enter the space with preconceptions of what is important there. I prefer to allow the place and people to tell their own story. This set of images captures the situation of the demolition of the hutongs emerging from this dérive.
16 Like all good dérives, one must be willing to become lost. This was particularly easy in the hutongs of Beijing. Although the north-south, east-west axis of the old city still structures the contemporary city, the air was often thick with smog and dust from the Mongolian desert. It is rare to see shadows in June and the visibility usually did not exceed a few blocks. The hutongs would wind and narrow until all sense of orientation slipped away.
Family
Lagean Freeman (that's L-E, G as in George, E-A-N F-R, double E, M-A-N)
Lagean Freeman, from Freeman family photos ∼ 1984.
17 I was maybe two years old the day that my dad came to pick my brother Mark, my sister Mona, and me up from our Santa Monica apartment. He had recently divorced my mom and we were supposed to spend Easter Sunday with him. We got in the car and began to drive. He didn't stop until we reached El Paso, where he bought us mariachi marionettes and a leather wallet with cowboy designs stamped in it.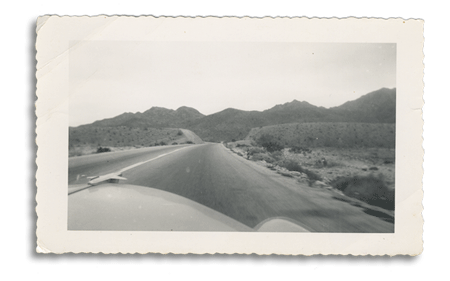 From Freeman family photos, photographer and date unknown.
18 A couple of years later we were living in our first of many foster homes through what I suspect was an interstate custody battle. The place was somewhere in Texas, near Dallas but in the country. Duncanville, I think. Mr. and Mrs. Box were an elderly couple, who, like most, took us in to supplement their fixed incomes. Porter Wagoner was playing on the radio:
The old hometown
looks the same
as I step down from the train.
And there to meet me is my mama and papa.
And down the road I look
and there runs Mary
hair of gold and lips like cherries.
It's good to touch
the green, green grass of home.
I recall that the Boxs were a nice enough couple, but at their age they had their hands full with three small children. It was the last day of the school before Thanksgiving break and we had spent the day making craft projects for the holiday. I made a silhouette self-portrait from black and white construction paper. The teacher used a projector to cast a shadow of our profiles on the black paper, which she traced and then we cut them out and glued them to the white paper. We also made turkey designs by gluing an assortment of dried beans to cardboard and lacquering over the top.
19 I knew my mom was coming that afternoon to finally get us and take us home, so I planed to make gifts out of these two projects. The turkey would go to my mom, who I had not seen for two years, and the self-portrait would go to Mrs. Box. I wanted to surprise her with the gift as we were leaving, but I made the mistake of showing her the gift I had made for my mom. Well, she almost hit the roof when she found out that I had done something nice for my mom, and she felt that I was being ungrateful to her for all she had done for us. That was when the cab pulled up to the curb and Mom stepped out like some kind of apparition, wearing a white Yves Saint Laurent pantsuit with giant Ray-Ban sunglasses.
Beijing, June 23rd, 2007
20 The Communications University of China set me up with two graduating students, Chang and Daisy, to assist, interpret and to become the subject of the "Imaging Beijing" project. By this time I had chosen a specific location and arranged to meet them there early one morning. We made the initial panoramic shots from the street and I had begun the first video dolly shot into the demolition zone when a government official stopped us in our tracks. We were told in no uncertain terms that photography at the site was forbidden. After some fruitless negotiations we decided to regroup and walked over to Yandaixie Jie near the Drum Tower. Yandaixie Jie is an historic and quaint market and has begun to attract the cafe and wifi crowd. Yandaixie means pipe and the street is indeed shaped like a pipe. It is a little more touristy than I am comfortable with for the "Imaging Place" work, but we could begin along the waterfront of Qianhai Lake, work our way through the market, and then strike into the residential hutongs just behind.

Chang and Daisy at Yandaixie Jie hutong.
Still frame from "Imaging Beijing," John Craig Freeman, 2007.
21 Things went fine until we again made the initial shot into the neighborhood. I walked the camera down to the first T in the road, being sure to keep the camera steady and straight. It just so happened that a woman had put her underwear out to dry right there. I didn't even see it. I was just trying to keep the shot aligned. She was sure that I was trying to take pictures of her underwear. Some excitement ensued and a crowd of onlookers began to gather.
22 Chang had begun to talk with a group of older men. They asked where I was from. When he told them that I was from the United States, one replied, "Oh yah, they were in on the Franco-Anglo invasion of Beijing of 1860, during the Second Opium War when the old summer palace was burnt to the ground and looted." This gives a sense of the collective living memory of these old hutongs. The issue is not the United States' foreign policy in Iraq, but the foreign policy of the entire west and colonial practices throughout the generations.
23 In the meantime the underwear lady had begun to raise her voice. There was absolutely no chance of reason or expiation. When the whole thing began to escalate we turned back. Again, stopped in our tracks.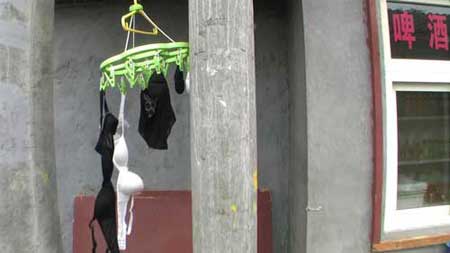 Still frame from "Imaging Beijing," Yandaixie Jie hutong, John Craig Freeman, 2007.
24 So we stumbled through the rest of Yandaixie Jie and over to the Drum Tower, off- kilter from the experience. We all began to question what we were doing, but continued to work. It was pretty exhausting. I got some great material but it was forced and wrought with tension. After several hours of trying to get it right and getting only halfway there, we decide to take a break and eat some lunch.
25 We found a place that served fantastic crabmeat dumplings and almond juice. We were out of the heat and it gave me a chance to download all of the files to the laptop and clear the camera's memories for more work. I processed some of the work so Daisy and Chang could see what it would look like. That got them recharged. We talked later and it turned out that we were all more shaken up from the woman and her underwear than any of us were letting on at the time. We discussed what to do next and we all agreed that we had to try to get to the hutongs again.
26 We headed back out into Huoyaojie Hutong east of the Bell Tower. At this point things just fell into place. Daisy and Chang did very well with memory work during the video testimonials. People were friendly and accepting for the most part. It was one of those situations where it was clear that I had been intent on imposing the demolition subject on the place. I just simply needed to experience the hutongs and let the place tell its own story. In the end the people themselves raised the demolition issue. We did not have to mention a thing. We shot until we ran out of disk space.
27 There was a funny situation at one node where we caused this huge rickshaw traffic jam out of nowhere. It was perfectly quiet, then this black sedan with dark windows pulled up in the middle of us taping one of the local denizens. I continued shooting to let her finish. The black car honked once or twice then 40 or more rickshaws from both directions arrived at once. It took 10 minutes to clear.
28 We spent the rest of the afternoon drinking espresso and mango smoothies and killed time talking politics. The students were very smart and engaged. Then they took me out for famous Beijing roasted duck.
Entertainment
Jim Morrison
29 This image of my mother in white and sunglasses stepping out of the cab is the earliest memory I have of her. After a brief exchange with the Boxs, my mother, brother and sister and I all got in the cab and drove away. Twenty-four hours later we were driving down Hollywood Boulevard in mom's gold Corvair, with our Texan crew-cut hair, amazed by the sight of the first-generation hippies. This was no longer home. This time it was The Doors playing on the radio.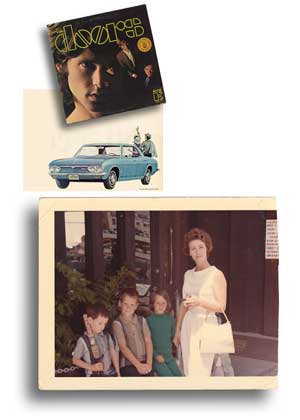 Composite detail from "John Craig Freeman's MyStory," John Craig Freeman, 2002.
I am the little guy with the sword on the left.
Pedagogy
30 After a couple of days of meetings, Chang and I decided to try one last time to shoot in a hutong demolition zone. Daisy had gone out after her graduation the day before and did not join us. This allowed Chang to open up a bit and we were able to move fast. The location was perfect, from the chaos of the morning commute at one of the main subway transfers at Xizhimen Station, through high-rise construction zone, along immaculately landscaped canal, and then right into hutong demolition. Chang completely understood memory work the second time out. He made no attempt to explain Beijing or this specific site. He just recalled raw, authentic memory. It was very courageous, I must say, and very edgy. Sometimes I think it is best to take people out once, then throw the material out and take them out a second time for the real shoot.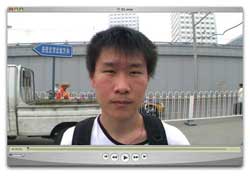 Chang at Xizhimen Station, Node 01.
Still frame from "Imaging Beijing," John Craig Freeman, 2007.
31 "After I did poorly on the National College Entrance Exam, I can almost feel the palpable disappointment in me by my father, and he probably boasted to his friends that I can attend the more prestigious colleges, and now he was proven wrong and he took it out on me and treated me very badly."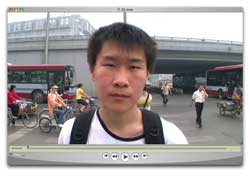 Chang at Xizhimen Station, Node 02.
Still frame from "Imaging Beijing," John Craig Freeman, 2007.
32 "I didn't see my dad until I was six, and the only thing that I remember on the day when I saw him is that he slapped me hard in the face. And, if you think that that is weird, what's more weird is the fact that to this day I don't even know for what reason he slapped me, and I didn't dare to ask my dad."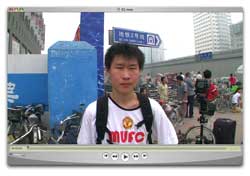 Chang at Xizhimen Station, Node 03.
Still frame from "Imaging Beijing," John Craig Freeman, 2007.
33 "The last time I got really drunk was in High School. I think I really had like thirty glasses of beer, and according to my friends, I was so drunk that I was actually sexually harassing some passerby women, and that was incredible if you know me."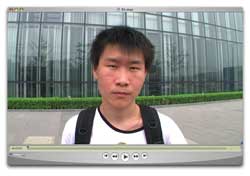 Chang at Xizhimen Station, Node 04.
Still frame from "Imaging Beijing," John Craig Freeman, 2007.
34 "But the only reason that after that night I never drink too much is not because I touched some women's breast, it's because the next day I found myself suffering from a huge and ugly black pimple sprouting out from, I think this area of my face, and that really scared the shit out of me. I never saw any black pimples, and I think that must have been the effect of alcohol, and that kind of kept me from drinking too much."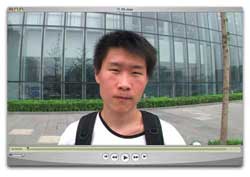 Chang at Xizhimen Station, Node 05.
Still frame from "Imaging Beijing," John Craig Freeman, 2007.
35 "I was in fifth grade when I first discovered first masturbation, and I had been playing this porno game for like a half year, and on that particular day I had this strange feeling of wanting to fiddle with my thing-down-there, and something just came out, and I was so horrified I had to rush into the shower room to clean myself, and of course the most stupid thing I did on that day was to tell my mother, because I was so scared, and that was about the worse decision I made."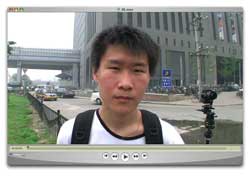 Chang at Xizhimen Station, Node 06.
Still frame from "Imaging Beijing," John Craig Freeman, 2007.
36 "I like to win bets, and in order to win bets I can do really outrageous things. One of the things that I did about two weeks ago was on a subway train. One of the folks that I hang out with said, 'I bet you can't pull down your trousers off here and exhibit your thing-down-there,' and to his surprise, I immediately flashed my penis in front of the whole carriage for like half a second, and then he lost the bet. He lost 50 dollars, and I really like to brag about the fact that I can do really shameless things in order to win a bet."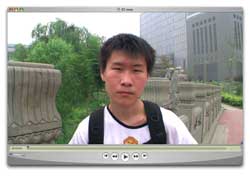 Chang at Xizhimen Station, Node 07.
Still frame from "Imaging Beijing," John Craig Freeman, 2007.
37 "I bore a grudge against my grade school monitor for quite a long time, and the reason is that once I think I was mistreated in some way by my math teacher, and then I wrote a little line in the back of my workbook saying that she deserves to die, which is quite reckless now that I think about it, but at the time I just did it, and the monitor saw it and she informed on me to the math teacher and the math teacher told my parents and then my parents beat me quite hard. So for a long time I hated my grade school monitor."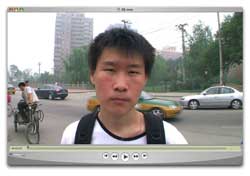 Chang at Xizhimen Station, Node 08.
Still frame from "Imaging Beijing," John Craig Freeman, 2007.
38 "My grade-school Chinese teacher was not only a master of the Chinese language but also a master of invective. She would curse us so bad that students started getting transferred to other schools. Because I was still a good student, she didn't curse me too much, but I remember one occasion when she actually said some bad things about a student's father or mother, and it was extremely offensive, and I really think it is bad."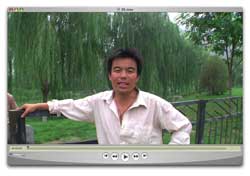 Xizhimen Station, Node 09.
Still frame from "Imaging Beijing," John Craig Freeman, 2007.
39 "The man was saying that he was very, extremely angry with the government officials because they did something very unfair to the non-native, to non-locals. Especially he was complaining about the government officials who are in charge of maintaining order of the cities, of the city areas, and he was making a plea for the government officials to correct their behaviors."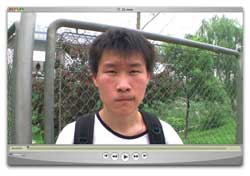 Chang at Xizhimen Station, Node 10.
Still frame from "Imaging Beijing," John Craig Freeman, 2007.
40 "The first crush that I had was with a Japanese singer on a hand bag, printed, her picture printed on a hand bag, I think in my grade school, like fifth grade or sixth grade, the only thing I remember was that I became extremely melancholy after I fell in love with her, because I thought that the singer was, I think, in her thirties or twenties at the time and I was still ten or about that. So I thought that it would be forever impossible for us to marry, for us to get married, and perhaps even impossible for us to meet and fall in love. But gradually I became more comfortable thinking about these kinds of things, so it did not trouble me for that long, but that was my first crush."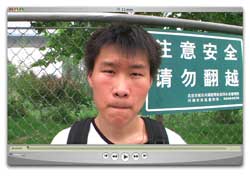 Chang at Xizhimen Station, Node 11.
Still frame from "Imaging Beijing," John Craig Freeman, 2007.
41 "The only time that I have ever met robbers is like, five or six years ago, and I was walking with a few of my friends. When we were near a McDonald's, we were approached by three students about the age of mine, and they asked, they pulled out knives, they separated us into separate corners, and then they pulled out knives to ask us for money. I remember the things that I gave them were three Michael Jackson cassettes and fifty yuan, that's all, because I was just a poor kid at that time."
Chang at Xizhimen Station, Node 12.
Still frame from "Imaging Beijing," John Craig Freeman, 2007.
42 "At one time I was associated with a gang member, and then I was speaking about the story about, I was being robbed, you remember? And then when we were robbed I asked the gang member to help us find out who robbed us. And then the story goes like, the gang member asked some of his superiors to find out, and then we ultimately found out those three kids. Although I didn't have a hand in this, the gang member and some of my friends reportedly beat the shit out of those three kids, and I ultimately got my three Michael Jackson cassettes back, but when I asked for the fifty qi, they equivocated saying that... I don't think I remember now, but they didn't give me the fifty qi which I'm pretty upset about."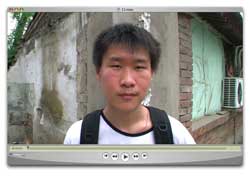 Chang at Xizhimen Station, Node 13.
Still frame from "Imaging Beijing," John Craig Freeman, 2007.
43 "Finally we are at the demolition zone. It's no easy thing to do. The first time we entered the demolition zone we were approached by several workers demanding us to leave, and I tried to bribe them with money, but it didn't work, which is quite an unusual thing in China. And then we tried to cajole them into letting us shoot there, but they seem to get pretty paranoid these days. I think it's mainly because the government didn't want bad image of them destroying valued cultural heritage. I think that's mainly the reason why it's so difficult for us to get into the demolition zone. I think that in normal circumstances they should have kept an eye on a site like this, which is pretty shabby."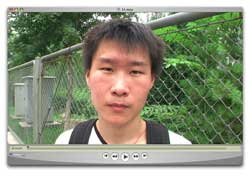 Chang at Xizhimen Station, Node 14.
Still frame from "Imaging Beijing," John Craig Freeman, 2007.
44 "One of the games that I used to play that was quite popular with the boys is ant burning, as a kid. You generally steal a lighter from your dad and then you find a place where ants are so widespread, and then you took an ant out and confine it into a narrow place and you use the lighter to torture that ant. Now I couldn't understand why I was so into that kind of stuff, that just seems so cruel and exhibiting poor taste, but at that time I was so excited about I could keep torturing the ant for hours."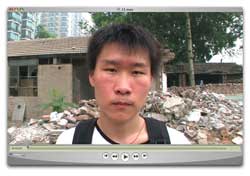 Chang at Xizhimen Station, Node 15.
Still frame from "Imaging Beijing," John Craig Freeman, 2007.
45 "One of the things that has been very striking to me during our shooting these few days is the receptiveness of many local residents of hutong towards the demolition projects, and to some degree I am quite sympathetic with them, because right now, I think one of the justification for demolishing these hutongs is simply the very poor living condition there, and right now there's a very unpleasant smell of rubbish spreading everywhere, and I think that in a sense, these locals, they don't need to preserve cultural heritage."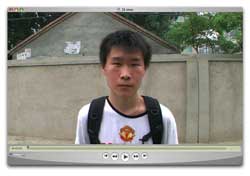 Chang at Xizhimen Station, Node 16.
Still frame from "Imaging Beijing," John Craig Freeman, 2007.
46 "One of the most unforgettable experiences in my high school years was when I suffered from an excessive fear of AIDS. I had sex with a fairly promiscuous girl and then I began suspecting that I caught AIDS. Then I began to be paranoid. I read a lot of books, health books about AIDS, and I watched a lot of films, and the more I read stuff like that the more I become worse. Finally I almost broke down, and then I did a test at a local center and the result was good so I stopped this paranoia, but it kind of altered my entire view on life. I began to think that a relationship ought to be a serious matter and that you ought to keep a constant partner and then I thought about a lot of things about life. I thought that human life is so fragile that a tiny virus could cost your life. It was a very unforgettable experience."
Chang at Xizhimen Station, Node 17.
Still frame from "Imaging Beijing," John Craig Freeman, 2007.
47 "I remember one incident in grade school when I actually made a quite intricate paper card, greeting card for my friend, and it was a very complicated one with many windows you could actually open and close, and when you opened one window you see a very interesting picture, stuff like that. And it was very shocking, I happened to be the student in charge of cleaning the classroom that day and I found my card, which I gave him in the morning, lying in the dustpan. I don't think he did it on purpose because afterwards we were just good friends, we went along quite well, but I thought he might have been careless or something. That's really something that hurt me a lot and I never gave anyone my card anymore after that."
Community
Esther
48 When I was seven or so, I lived with a foster family in Los Angeles. The Krowski's had two daughters of their own, Stephanie, who was nine at the time, and Cindy (aka Picky-nose-Cindy) who was six years old. They had a camper that would fit in the bed of a pick-up truck. We would go on long summer camping trips throughout the Southwest. I can remember riding for hours in the over-cab, a master bed of sorts. It was in a compartment that extended over the driver and passenger cab of the pick-up. You can still see them on the road today but they are rare. It had a large panoramic window in front, which offered unobstructed views of the landscape as we drove. These days it would be considered negligent to allow a bunch of kids ride in the over-cab. With no safety apparatus whatsoever, a person would certainly be thrown through the window and to the pavement below in an accident. Nevertheless, memories of the Southwest landscape unfolding around me at sixty miles an hour are etched in my mind and must be the root of my wanderlust.
49 One afternoon we stopped for gas near Four Corners on the road to the Mesa Verde. Every one piled out to get sodas and tend to other bodily functions. Afterward, we drove about an hour before anyone noticed that we had left Cindy behind at the gas station.
50 We arrived at Mesa Verde later that day after backtracking for Cindy. The day had gotten quite hot by the time we began the descent into Cliff Palace at Mesa Verde. As I remember, it seemed about 115 degrees. We were just rounding the trail along the canyon precipice into the ruin site when darkness began to creep in from the sides of my vision. Everything went black before I collapsed, dangerously close to the edge of the cliff, I am told. The next thing I remember a ranger was giving me water from a canteen and he had me keep my head between my knees. He had carried me into one of the intact kivas at Cliff Palace. As I remember this kiva was typically off limits to visitors of the park. The ranger knew to get me out of the sun and heat and the kiva was perfect for that.
51 Later that day we were in the park museum where they kept Esther the 1,700-year-old Basket Maker mummy. She had been on display for tourist in a Plexiglas box since 1939.
52 In his article "Human Prunes," dated 1940, Mesa Verde National Park Naturalist Don Watson wrote: "The outstanding mummy in the Mesa Verde Museum is "Esther." She is the newest, having arrived only last summer, but she is already the most famous. In the short time that she has been on display she has gained a host of admirers. A surprising thing about Esther is that, being so well preserved and having a name, she has become a personality. To many people she has become almost an actual being. No one refers to her as a mummy."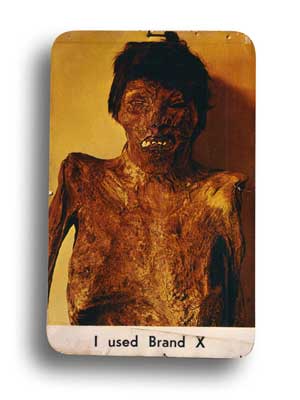 Postcard of Esther the Mummy, Mesa Verde Colorado, ∼ 1968.
In the gift shop they were selling postcards with a close-up, head and torso photograph of Esther with copy that read, "I used Brand X."
54 Don Watson wrote: "It is interesting to speculate about the cause of this young woman's death. No definite conclusions have been reached. Complete x-rays have been taken of her entire body but no evidences of violence are visible. Every bone is intact and no foreign bodies such as arrow or spearheads are present. Even the teeth are perfect. The fact that the wisdom teeth were just ready to erupt indicates an age of about nineteen. Since no evidence of violence shows in the x-rays it is impossible to say what caused the untimely death of this young woman. Considering the fact that she was only nineteen, and was probably very attractive, one is tempted to wonder. Unfortunately, a broken heart does not show in an x-ray!"
55 Twenty years later I was driving through Colorado near the headwaters of the Colorado River on my way to Boulder. I stopped to spend the night in a little roadside motel in Grandy. When I went to the office the next morning to pay I notice that the owners had a copy of the "I used Brand X" postcard pinned on the wall behind the cash register. This is where the image above was made.
56 As I understand it, Native American activists who considered the crass display of her remains to be a desecration have since repatriated Esther.
Beijing, June 28th, 2007
57 There is an ancient tradition in China in which people would travel from all parts of the countryside to plead their grievances before the Emperor. They would queue up for an audience with the Emperor and grovel at his feet, citing incidents of local government corruption and human rights abuses. Although transformed and bureaucratized, this tradition continues today.
58 I was having coffee with a friend one afternoon, after the "Imaging Place" fieldwork was complete, when the topic of the petitioners' village surfaced. Although few locals had ever been there, and certainly fewer foreigners, there were rumors of a temporary village somewhere south of the city center. We decided to go try to find the place; however, we weren't sure where to go. We hailed cabs in the rain for a while, but the cab drivers were reluctant to take us there or simply denied knowing the village's whereabouts. Frustrated and now wet, my friend suggested we check the Internet. Since neither of us had a laptop and a wireless connection was nowhere near, he suggested that we go to a nearby Internet cafe.
59 The Internet cafe was an experience in of itself. It was truly a windowless basement den where hundreds of gamers had been sequestered for hours, or even days. It turns out that there are clinics in China dedicated to the treatment of Internet addiction. It seems ironic that the skills that may be necessary for the development of electracy, are often treated as a disease. Does electracy have a pathology? After my visit to the local Internet cafe, I am just not sure. At any rate, we got the directions to the petitioners' village and in a matter of minutes we were on our way.
60 At first we were still not able to find the village, but we managed to find the Ministry of Correspondence (loosely translated). The idea is that a petitioner is supposed to write the grievance down and mail it to the ministry. Petitioners are not supposed to come to the ministry in person. But come they do, in the hundreds, waiting to catch the ministers as they walk to their cars at the end of the workday. The petitioners wheat-paste their grievances to the wall of the hutong leading to the ministry. The government would come at night and paint them over. Then the petitioners would return the following day and paste more grievances, creating layers of horrific stories of trumped-up detentions and deaths of loved ones.
David Barboza, The New York Times | May 4, 2007
China Makes Arrest in Pet Food Case

SHANGHAI—The general manager of a Chinese company accused of selling contaminated wheat gluten to pet food suppliers in the United States has been detained by the Chinese authorities, according to police officials here and a person who was briefed on the investigation.

The manager, Mao Lijun, head of the Xuzhou Anying Biologic Technology Development Company, is being held in coastal Jiangsu Province, about 320 miles northwest of Shanghai, though a police spokesman in the area, Pei County, declined to say on what charges.

In a telephone interview a few weeks ago, Mr. Mao denied any knowledge of how melamine, an industrial chemical, had been mixed into pet food supplies sold under his company label earlier this year. He also insisted that his company had never exported any wheat gluten and that his products were sold only on the domestic market.

But regulators in the United States identified Xuzhou Anying and another Chinese company in nearby Shandong Province as the only sources of the contaminated ingredients that killed 16 dogs and cats, sickened thousands of others and led to one of the biggest pet food recalls in American history.
61 We then paid a guy 5 yuan (about $0.66 USD) to take us to the village in a motor-driven rickshaw. He would only go so close and told us to walk the rest of the way. Still not completely sure where to go, we continued on, following the steady stream of petitioners. We stopped to read a petition, which was given to us by an eighty-five-year-old woman whose son died while being detained on false charges. We suddenly realized that we had found the village when a large group of petitioners started to descend upon us, thinking that we might be able to help them. I began to have a "we may be in over our heads here" moment when we decided to beat a hasty retreat. I made no images that day, no pictures of the petitions, the petitioners or the new Olympic building construction site that was encroaching on the village itself.
Expertise
Martha Rosler
62 When I was doing my undergraduate work at UCSD in the 1980s, Martha Rosler wrote an article titled "Lookers, Buyers, Dealers and Makers," which deconstructed the art market and exposed its capitalistic/consumer ideology. Rosler's work and writing was immensely influential to the development of my artistic practice. Before then, I was pursuing painting and photography. I haven't made an object since. This was ten years before I met Greg Ulmer and started developing an electrate artistic strategy.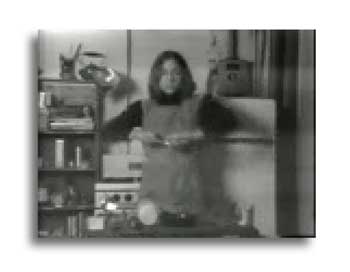 Still frame from "Semiotics of the Kitchen," Martha Rosler, 1975.
63 Semiotics of the Kitchen 1975, 7 minutes. A milestone of feminist art, this short black-and-white video reveals the suburban kitchen to be a war zone where routine food preparation masks the violent frustrations felt by women at being confined in the home. A static camera is focused on a mid-shot of a woman in a kitchen. On a counter before her are a variety of utensils, each of which she picks up, names and proceeds to demonstrate, but with gestures that depart from the normal uses of the tool. In an ironic grammatology of sound and gesture, the woman and her implements enter and transgress the familiar system of everyday kitchen meanings.
64 Prior to the rise of commodity capital, cultural production was a site- and context- specific proposition. A painting was made directly on the cave or cathedral wall. In the Renaissance, painting came off the wall and onto the canvas where it could be bought and sold, carving out its status as commodity. Throughout the industrial revolution and modernism, this status continued to develop. By the end of the twentieth century, the art object had become the quintessential commodity. Electracy doesn't necessarily herald the end of the art market. A masterpiece painting is still worth more than plutonium. It is reasonable to expect, however, that in the twenty-first century, electracy will facilitate alternative economies as well as alternative cultural practices. Artists can look to the open-source software communities and other gift-economy practices for alternatives. I suspect that in the future, artists will develop iterative practices, which can evolve and grow over time. Rather than the finality of the completed commodity object, artworks will be made and remade in versions: art in a constant state of becoming. They will be rooted in the virtual in addition to the physical. Artists will have to become adept at navigating networks and migrating their work across technologies and disciplinary expertise as they evolve. This is how I have come to understand the notion of the artist as researcher. Research, unlike sculpture, is never really finished.
Beijing, June 29th, 2007
65 The day after Chang and I completed the fieldwork for the "Imaging Beijing" project I decided to go do some of the tourist things people are supposed to do in Beijing. I had spent the first morning of the trip at Tiananmen Square and the Forbidden City. It was impressive but I was anxious to get out into the living city. Aside from that I had not been to any tourist site to speak of. I decided to take a subway over to the Old Summer Palace to see the ruins from the Franco-Anglo invasion, of which the men from the hutong had spoken, and then walk over to the Summer Palace. I estimate the walk to the Summer Palace to be about five miles. I was walking in the general direction but drifting off the beaten path into the neighborhoods. I might have wandered into a military installation because I found myself surrounded by people in uniforms. I played dumb tourist and pointed to the Summer Palace on my map. They politely pointed the way I had come and I walked back out to the main road. I continued on for about an hour, found a market where I photographed some, and then stopped to take some shots of some old neon signs. All of a sudden, someone grabbed me by the arm and shook it, blurring the shot. I turned to find the same group of uniformed people surrounding me. This time they were not at all polite, instead they seemed quite agitated. When I pulled my map out to point at the Summer Palace, one woman began to push me in that direction. I waved and started to walk. When I reached the street I decided it might be a good time to get a cab. As I was standing there, the group pulled up slowly in their police car. One of them opened the rear door and gestured for me to get in. I smiled and shook my head and continued to try to hail a cab. Then the man insisted that I get in. I honestly did not know whether I was being detained or if they were going to give me a ride to the Summer Palace. I was quite relieved, as you can imagine, when we pulled up at the entrance to the Summer Palace.
66 On 6/29/07, John Craig Freeman wrote:
btw Chang, What does this sign say?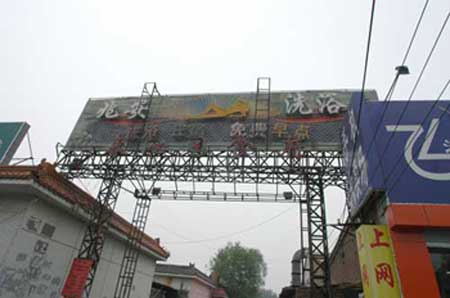 Ablutions Center, Beijing. John Craig Freeman, 2007.
67 On Jun 29, 2007, at 6:04 AM, Chang wrote:
lol, It says "ablutions center," "sauna" and "recreation center," all euphemisms for massage parlors. The smaller characters below mean "free breakfast." This is odd because they are all expected to provide free meals, including breakfast. The two red characters against a yellow sign near the bottom right mean "Internet" (cafe). lol, this has to be quite a seedy neighborhood!
The Hypericon
68 The image or hypericon that emerged from my mystory is an image of a burnt house. I came across this photograph in the single manila envelope that contained all that is left of my family's photographs. It is a curious picture. I have no idea where it was taken or whose house it was. On the back is simply written "Dec. 23, 1953." This was well before I was born. It is just another piece of my lost history. All of my history and memory is reduced to a ragged manila envelope full of fading unexplained images. So I must construct the meaning for myself—displacement, exile, an inability to return home?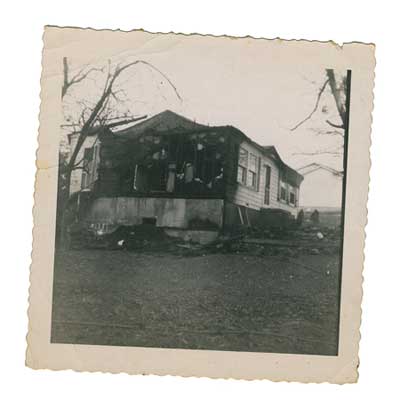 From Freeman family photos, photographer and date unknown.
69 In the Family quartile of the mystory, I was removed from home in Santa Monica at 10833 Le Conte Avenue apartment number 138B. I was probably too young to remember anything from there, but I do seem to recall sunlight through the gold crackle saint-just antique style stained glass next to the front door. It was home. I was home. Unlike at the Box's where I was just staying. The first of a lifetime of just staying.
70 In the accounts from the Entertainment quartile, when I returned to California years later, home was unrecognizable given the social upheaval of the 1960s. The home I had left no longer existed. I doubt that the feeling of home that I had constructed in my mind had ever existed.
71 Of course, in addition to the story of Esther's remains being dug up and removed in the Community quartile, the entire Anasazi culture was displaced from their home at Mesa Verde. Scholars say that they seem to have simply vanished in the 12th century, although the Hopi and the Acoma will disagree.
72 In the Expertise quartile, Martha Rosler expresses her dissatisfaction with the expectations of home and female domesticity. This rebellious dissatisfaction with gender roles is compounded into revolutionary class rhetoric in her theoretical writing which challenges the very foundations of the institutions that determine what constitutes culture. Burn the institutions to the ground. In all four quartiles, home is but a smoldering ember, a burned-out memory.
Mark Magnier, Los Angeles Times | July 12, 2007
Food safety head's execution in China stirs Internet cheers

BEIJING -- Heightened anger and fear over the safety of food ingredients, medicine, and other consumer products was vividly on display here Tuesday following the execution of the former head of China's food and drug safety agency.
Within hours of an announcement that Zheng Xiaoyu, 62, had been put to death for taking bribes from pharmaceutical companies, China's Internet lighted up.
I-Ching Hexagram #56: The Traveler
Little, little traveler,
Leaves his house to wander,
Courting disaster.
The traveler takes lodging,
Money stashed in his clothing.
He gets a servant.
All goes well.
The traveler's inn is burning,
The servant is sent scurrying.
Danger.
The traveler builds his own quarters.
The lost sum he recovers.
But his heart is not glad.
He shoots at a pheasant,
Losing an arrow.
In the end this brings renown.
A bird's nest is burning.
The traveler first laughs, then weeps.
He lost his oxen at the Kingdom of Yi.
Disaster. (Huang 182)
---
Works Cited
Downs, Roger, and David Stea. Image and Environment: Cognitive Mapping and Spatial Behavior. Piscataway, NJ: Aldine Transaction, 1973.
Freeman, John Craig. Imaging Place. «http://ImagingPlace.net»
Huang, Kerson and Rosemary. I Ching. New York: Workman Publishing, 1987.
Kitchin, Robert M. "Cognitive Maps: What Are They and Why Study Them?" Journal of Environmental Psychology 14 (1994): 1-19.
Manovich, Lev. Soft Cinema: Navigating the Database. DVD-video with 40 page color booklet. Cambridge, Mass.: The MIT Press, 2005.
O'Keefe, John, and Lynn Nadel. The Hippocampus as a Cognitive Map. New York: Oxford UP, 1978.
Tolman, E.C. "Cognitive Maps in Rats and Man." Psychological Review 55 (1948): 189-208.
Ulmer, Gregory L. Internet Invention: From Literacy To Electracy. Longman 2002.
—. Teletheory: Grammatology In The Age Of Video. Revised 2nd edition. Atropos, New York/Hamburg: Atropos, 2004.
—. Heuretics: The Logic Of Invention, Baltimore: Johns Hopkins UP, 1994.
Watson, Don. "Human Prunes." Region III Quarterly, National Park Service, U.S. Department of the Interior, Washington D.C., Volume 2, #1 January, 1940. 27 Apr. 2008. «http://www.nps.gov/history/history/online_books/region_111/vol2-1c.htm»
Witte, Lythe (aka Dena, Christy). Art and Aporia: Imaging Place. SLATEnight, January 2007. 15 Jan. 2007. «http://Slatenight.com»
---