Papi is one of two new women of color who begin the fourth season. The actress playing Papi, Janina, is Indian and Dutch, and has no Spanish heritage. Papi (meaning Daddy), like Carmen, is another Latina or Chicana character (her ethnic background has not been made clear on the show) played by a South Asian actress. She is a limo driver and a player, blowing up Alice's chart with more conquests than all other characters combined. She begins to fall for Kit, when Kit lapses after Angus cheats on her, but it seems that Kit will remain straight for now.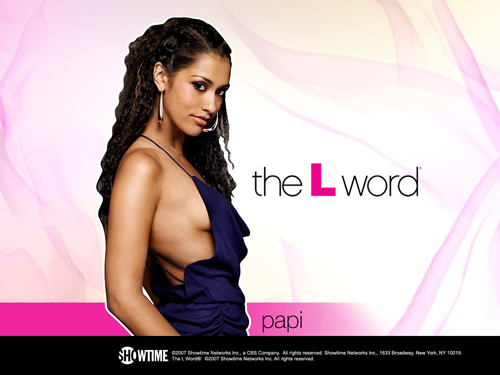 (The L Word on Showtime – Get the Newest L Word Downloads and more)
Though most of the characters in the fourth season photos are somewhat sexy, Papi's facial expressions make her appear more exotic. The image is also somewhat contradictory of her personality.