Tim Haspel was the token male for season 1. Tim is a heterosexual, masculine, well-built, white male. He was the swimming coach at a local college and lived next door to Bette and Tina. His girlfriend, Jenny, moves to L.A. to live with him. When he finds out about Jenny and Marina, he proposes to Jenny and they get married. They eventually break up, and in the first episode of season 2, he is seen moving away for another job. He does return, with a new wife, for a guest appearance in season 3 when his new university comes to L.A. for a swim meet. The scenes for his run-in with Jenny show the homophobia and transphobia experienced by more masculine lesbians or transgendered persons.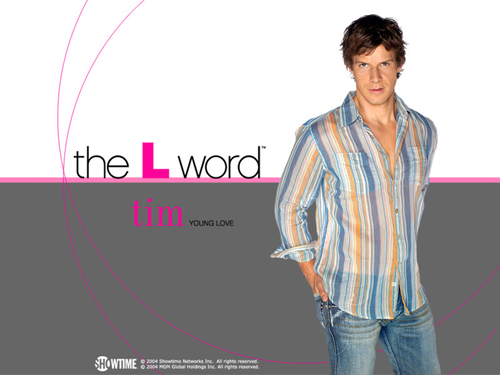 (The L Word on Showtime – Get the Newest L Word Downloads and more)

Tim's appearance in the media photos, when you look at the cast (season 1) as a whole, is not much different from those of the women on the show (conventionally attractive, well built and white). I think he actually resembles many of the other first season characters.