Prime Minister Justin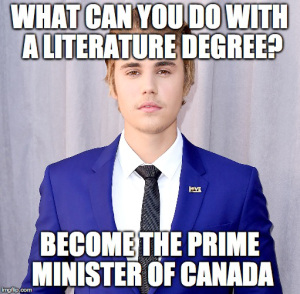 The collision between the Trudeau and Bieber foregrounds the cynical detournement (an anti-detournement, perhaps?) prevalent in digital spaces.
The image/message tension that suggests memes can (or already do) function as poetic devices in web writing.
MEME LIVES MATTER
Very Bad Luck · Happy Hollowmeme! · I'm Hungry · Climate Change · Hail Seitin · Scumbag Allie Mae · Hillary Texts Meme · Trump on a stump · Trippy Facts About Engineers · Prime Minister Justin · STEM Lies Exposed · Disaster Girl by Clickbait · Bullyslappin' Batman · I don't always science · Pray for Paris · Curious?
---
CONTENTS

CONTRIBUTORS
Talan Memmott
Davin Heckman
Claire Donato
Sergio Figueiredo
Jeremy Hight
Jeff T. Johnson
Kelly Lydick
Mark Marino
Craig Saper
Orchid Tierney
Erik Zepka